Product category
Contact Us
Shenzhen Masterlite Co., Ltd.
E-mail : sales@led-mtl.com
Attn : Mr. Vilson Fang, Sales Manager
Tel : +86-13510495717
Skype : vilson_fang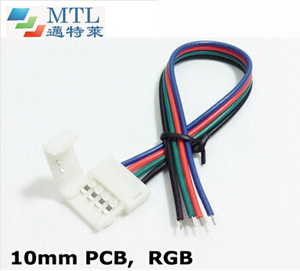 Item Name:  
LED strip connector FPC-10MM-4P-BX
Item No.:  MTL-FPC-10MM-4P-BX
Type:  LED strip connector 4 pin, RGB connector
Color:  White
Material:  22# wire in RGB, 15cm long
Custom made:  Available
OEM:  Available
Payment way:  T/T, Paypal, Western Union
Remark: Price list is available. Please contact us and we will send you within 24 hours.
Main description
This type of
LED connector
is specially designed to connect RGB LED strip of 10mm width PCB to LED controller, without soldering, very easy and reliable to use.
Features
1. Usage: Connect 10mm width PCB RGB LED strip without soldering.
2. Connector type: 4 pin, RGB strip to controller.
3. Wire length: 15cm
4. Color:White.
5. Easy and reliable connecting.
Service
1. All inquiries will be replied within 24 hours. You can send us an email or call us.
2. We are very happy to offer customized designs and OEM service.
3. Advance equipment, large-scale production line, big supply ability.
4. Excellent communication ability, make sure that you feel just like working at your own factory.