Product category
Contact Us
Shenzhen Masterlite Co., Ltd.
E-mail : sales@led-mtl.com
Attn : Mr. Vilson Fang, Sales Manager
Tel : +86-13510495717
Skype : vilson_fang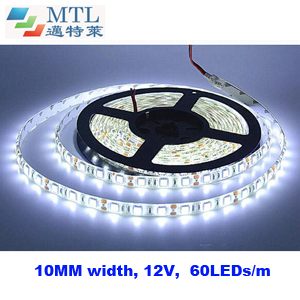 Item Name:  
60 LED/M 10MM width 12V 5050 LED strip
Item No.:  MTL-5050-60-10MM-12V
Type:  10MM width, double-sided PCB
Color:  Cool white, Warm white, Red, Green, Blue, Yellow, RGB
Material:  High brightness SMD 5050 LED strip
Custom made:  Available
OEM:  Available
Payment way:  T/T, Paypal, Western Union
Remark: Price list is available. Please contact us and we will send you within 24 hours.
1. LED strip Name: 60 LED/M 10MM width 12V 5050 LED strip
2. Luminous Flux: 18-20 lm per LED
3. Input voltage: DC 12V
4. Power: 14.4W/m, 72W/reel
5. LED Qty: 60 LED/m, 5M/reel, 300 LED/reel.
6. Light color available: cool white 6000K, warm white 3000K, red, green, blue, yellow. RGB.
7. PCB type: 10mm width double-sided PCB, white.
8. IP rating: IP20 nonwaterproof, for indoor use only.
IP65 waterproof, can be used outdoor.
9. Install: with 3M double faced adhesive tape on the back.
10. Warranty: 2 years.

5050 LED strip 60LED/M
Model No.
MTL-5050-60-10MM-12V
Installation
With 3M double faced adhesive tape on the back
Input Voltage
DC 12V
Package
5M/reel
Power
14.4W/M
Weight
110g/reel(IP20), 230g/reel(IP65)
LED Type
SMD5050 LED, high brightness 18-20 lm per LED
Average Life
50,000 hours
LED Quantity
60 LED/M
Warranty
2 years
Light Color
Cool white 6000K, warm white 3000K, red, green, blue, yellow, RGB.
Certificate
CE, RoHS
PCB Type
10mm double-sided flexible PCB
Custom Made
Available
PCB Color
White
IP Rating
IP20 / IP65