Product category
Contact Us
Shenzhen Masterlite Co., Ltd.
E-mail : sales@led-mtl.com
Attn : Mr. Vilson Fang, Sales Manager
Tel : +86-13510495717
Skype : vilson_fang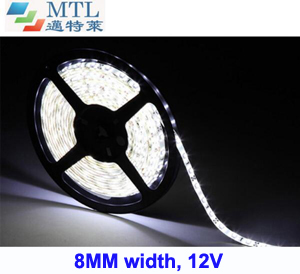 Item Name:  
12V 3528 LED strip 8MM width 60LED/M
Item No.:  MTL-3528-60-8MM-12V
Type:  8MM width, double-sided PCB
Color:  Cool white, Warm white, Red, Green, Blue, Yellow, Pink, Orange
Material:  High brightness SMD 3528 LED
Custom made:  Available
OEM:  Available
Payment way:  T/T, Paypal, Western Union
Remark: Price list is available. Please contact us and we will send you within 24 hours.
1. LED strip Name: 12V 3528 LED strip 8MM width 60LED/M
2. Luminous Flux: 7~8 lm per LED
3. Input voltage: DC 12V
4. Power: 4.8 W/M, 24 W/Reel
5. LED Qty: 60 LED/m, 5M/Reel, 300 LED/Reel.
6. Light color available: cool white 6000K, warm white 3000K, red, green, blue, yellow. orange, pink.
7. PCB type: 8mm width double-sided PCB, white / black.
8. IP rating: IP20 / IP65 / IP66
9. Install:IP20 / IP65: with 3M double faced adhesive tape on the back.
IP66: we will send silicone clip for fixing the strip, NO 3M tape on the back! Because the 3M tape can not stick on the silicone tube.
12V 3528 LED strip 8MM width 60LED/M
Model No.
MTL-3528-60-8MM-12V
Installation
3M tape / Silicone clip
Input Voltage
DC 12V
Package
5M/reel
Power
4.8 W/M
Weight
100g/reel(IP20),
200g/reel(IP66)
LED Type
SMD3528, high brightness 7-8lm per LED
Average Life
50,000 hours
LED Quantity
60 LED/M
Warranty
2 years
Light Color
Cool white 6000K, warm white 3000K, red, green, blue, yellow, Orange, Pink
Certificate
CE, RoHS
PCB Type
8mm double-sided flexible PCB
Custom Made
Available
PCB Color
White/Black
IP Rating
IP20/IP65/IP66